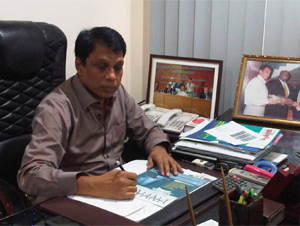 I have the pleasure to introduce our company profile which will serve you with the information relevant to fulfill your need for recruitment of work force from Bangladesh.
As to ourselves, I would like to inform that we are of the most organized team of professional manpower recruiting agencies in Bangladesh and have earned wide commendation from him and abroad for our outstanding performance in providing efficient workforce to different region of the world.

To render our services to our clients, we have a team of responsible, energetic and professional manpower experts, where every ones concerned about established a reputation of being highly diligent, very adaptable and above of all extremely sincere.

With your every kind of manpower requirement, we are fully assuring you a complete blend of sincerity and satisfactory services and as such request you to give us an opportunity to serve your company as your most reliable manpower placement company in Bangladesh.

With best regard


..................
Quazi Sakhawat Hossain Lintoo
Chairman

House No : 82, Road No : 11, Block : D
Banani, Dhaka-1213, Bangladesh.
Phone : + 88-02-8836408, 9822028, 9821990, 9821934
Fax : 9822089
E-mail : mcotravels@gmail.com, mcotrading255@gmail.com
Web : www.mcotradinginternational.com